The big event of the year!! Burns Night Supper.
Our President, Ken Millage and Bill Gable
appeared on Good Day PA!
Exciting News!! Portions of our Burns Night will be videotaped by USA Kilts for later distribution on their social media.
**Additional info below     Sorry, we can not accept walk in registrations.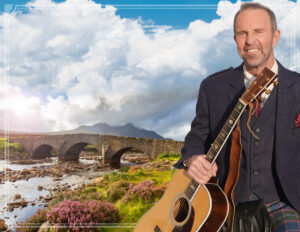 Celebrating the Life, Poetry, and Music of the Scottish Bard.
Date:        January 28, 2023
Location: Penn Harris Hotel, 1150 Camp Hill Bypass,  Camp Hill, PA 
Time:       5:00 PM Social Hour Begins
                  6:00 PM Dinner Begins
Cost:        $50.00 Adults Society Members
                 $60.00 Adults Non-members
                  $25.00 Children (17 and Under)
                  $15.00 Young Children's Menu
                  Cash Bar
Reservations required by Jan. 18, 2023

Enjoy an evening of fun and celebration. You do not have to be Scottish or a member of the Scottish Society of Central Pennsylvania to attend. There will be bagpipes, men in kilts, traditional Scottish food (including haggis) and drink, ceremony, and occasionally, dancing in the aisles. Entertainment will be provided by Charlie Zahm and Tad Marks.
**The recording will focus on key activities during the evening such as the procession of officers, the presentation of the haggis, the Address to a Haggis, toasts, and the Immortal Memory. Please note that while the focus will be on the key activities, there will be the possibility of anyone in attendance being captured on tape during the recording. We have been assured the videographers will not be focusing on people eating. If you prefer to minimize the likelihood of being included in the taping, please include that information on your registration form and we will do our best to place you at a table as much out of line of the expected taping as possible.
We will also have access to the recording and will place it on our website and Facebook page.
Events that are happening later in the year will be posted on our "Events" page.
Please visit and "like" us on our FaceBook page Scottish Society of Central Pennsylvania .
 It might be of interest that the Great Scot website shows a registered Ukraine Forever tartan.

OBJECTIVES OF THE SOCIETY
To promote an interest in the history, culture, and traditions of Scotland and Scottish Americans in Central Pennsylvania
To develop and strengthen the bonds of friendship and good fellowship through entertainment and social gatherings
To keep members informed of Scottish related events and activities occurring regionally and nationally.
And to preserve fond memories of Auld Lang Syne.
Scottish Society of Central Pennsylvania

Officers and Board of Directors
President: Ken Millage
Vice-President: John Goodrich
Secretary: Jennifer Gardner
Treasurer: David Smith, DC
Immediate Past President: Charlene Kemp
Piper: William Gable
Directors:
Fred Hait, Bucky Nelson
Kathleen White, Heather Zeigler
Given by individuals and families to honor their Scottish heritage
These banners are displayed at various Society and public occasions